Need .Space?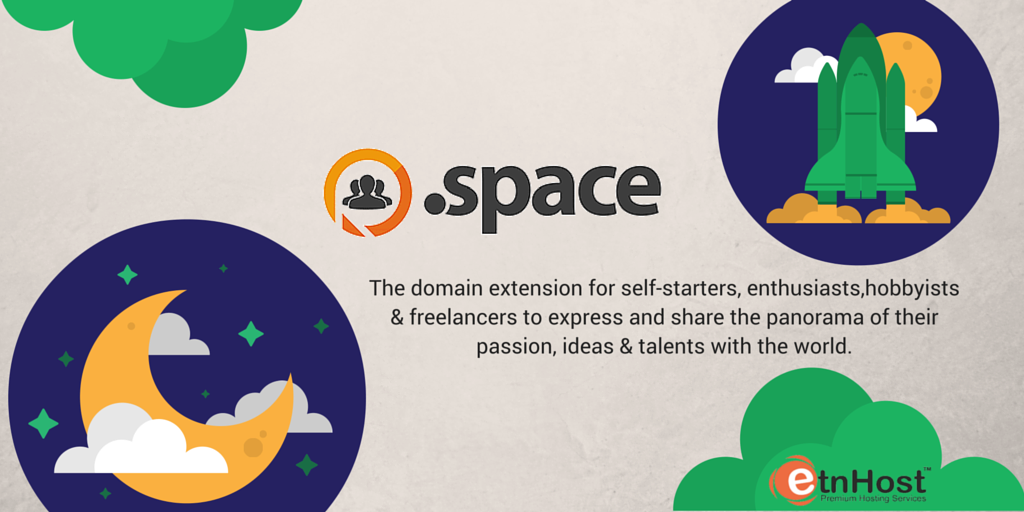 In the beginning there was nothing, and then this little singularity gave birth to it all. And then came space, ever expanding, restless, endless…Sadly we were not present the first time space was created, but we are here now and much like the last time our .space presents us with unparalleled opportunities. It's a fact... we all need .space, some of us don't have .space, some of us wish to go to .space, and some of us do not even suspect that .space is already here, and it has been here for a while. Where have you been? Probably somewhere looking for .space. Well look no further and register your new TLD .space!
What makes this domain extension so unusual and unique is the thought that is standing behind it. It is not just another domain extension, it is a way for anyone with an idea and a can-do attitude to create a content, without restrictions (regarding specialization or theme). It is an innovation, which has no limitations regarding the country, the specialty, the interest or the industry. It is compared to a canvas - a clean start for everyone. It can be used both by organizations or by individuals, who are looking to shape their own reality.
.space pushes the boundaries and gives you the opportunity to seize the moment. Captivate your dreams! If you are a freelancer, a designer, a writer or an aspiring astrophysicist, maybe even a scientist, well now you are given the opportunity to thrive under a domain name that is not pretentious and restricting, or even worse … boring. You have the .space to get creative. Big-Bang yourself into the future, and start to create your own world filled with whatever you want it to be filled with. There is A New Hope for everybody! (wink wink Star Wars fans) The .space TLD was proposed by Radix, which is its current registry operator, and it was accepted by ICANN, with the both parties signing the contract in April 2014.
So if you are interested in this spacious offer, ETNHost has the means to bring you to .space, where all of your visions will be your guiding light. And much like with every domain extension, there is a very real chance that the domain name you desire won't be available, so the sooner you decide, the better your chances are. So don't waste time, and register yout .space domain with us!