Chapter 4: How To Build A Sports Website using WordPress?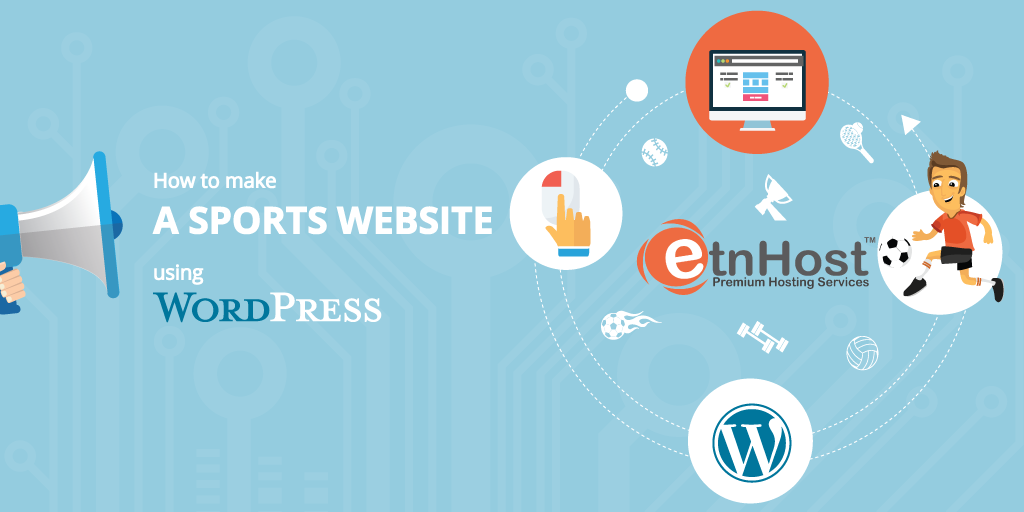 If you are keen on sports and want to share this passion with the world, building a sports website is the solution for you. The only problem is that you have no idea where to start. Well, worry not, because ETNHost is here with a brand new chapter of the "How To?" series, and we are happy to throw some light on the subject.
1. Start at the Beginning - Web Hosting and Domain
As per usual, we are beginning with the foundation and the most essential part of building your website. You should choose a suitable, for you and your budget, hosting plan and a domain name that responds best to your website. The hosting plan that you choose is much like buying a piece of land, a big piece of land means that you can build a big house. ETNHost offers web hosting plans for all types of needs, and for all types of people – from newbies to pros.
Choosing the right domain name is a topic, which we have discussed in depth in our 10 Tips on Choosing The Right Domain Name article.
2. Installation of WordPress
The Installation of WordPress is pretty easy. We have already discussed in depth the process of installing WordPress and themes for WordPress in our How to Build a Website Using WordPress article. You may check it and follow the steps provided.
3. Choosing the Right Theme
The best part about WordPress is its wide variety of themes, both free and premium. All of them are easy to use, highly customizable and fun. Here are some of them in the list below:
Of course, if you don't want to spend money on premium themes, here are a couple of sports themes, available for free on WordPress.
SportsMag - It is a theme that is filled with features. It is absolutely free, fully responsive, and fun! SportsMag is perfect for magazines, blogs, personal websites and so on. It has a custom menu, background, and other theme options.
Sporty - Another free WordPress theme with lots of features like custom header and menu. It has a responsive and fluid layout as well.
4. Elements
Each and every website has elements, essential to its structure. For the different types of sites, there are different elements needed. It really depends on what kind of website you are building. It matters, if you want to build a website dedicated to fitness or to yoga, to football, basketball or sports in general. No matter what type of site you choose to have, there are things that it must include.
Images - people enjoy them, because they tell a story. It is always better to have something visually stimulating next to a plain text. It keeps the visitor interested. However, you probably shouldn't go over the top with the images that you put on your site. Everything should be within its limits.
If you are a personal trainer, or you are building a website for a fitness club or a sports club then you should include the following things
What You Offer – you should inform people what types of sports you offer, or what type of training. For what age groups is it appropriate. Tell everything there is to tell about your program/s. What types of programs do you offer, and again who are they suitable for.
Schedule – people would like to know what is the schedule of the trainer/s and when the practices take place. This schedule should be web based, but it would be a good idea to put a PDF file, ready for downloading an printing for the convenience of the visitors.
Social Media – you should know that people are most likely to find you via the social media – Twitter; Facebook; Google +. They are the monsters that rule the Internet, and you should really take advantage of them and learn how to use them to your advantage. You can keep your followers in the loop, and at same time attract new visitors to your website.
Contact – People should be able to reach you, so this is why you should dedicate a page for a phone number, e-mail and a contact form.
5. Advertise your website
If you want to be found, you should advertise your website. Here are some ways to do that:
Via social media – it's free, and keeps you close to your followers.
Via Web Banners – this is a really common way of web advertising, that has proven really effective over the years.
Via Google Adwords – This way you will be seen bay more people and you will achieve a higher ranking, but it will cost you per click.
So those were our tips on How To Build a Sports Website. Leave us a comment, if you find our tips helpful. And if you enjoy this article, please don't hesitate to like and share it.
ETNHost wishes you happy site building!