10 Must-Have WordPress Gallery Plugins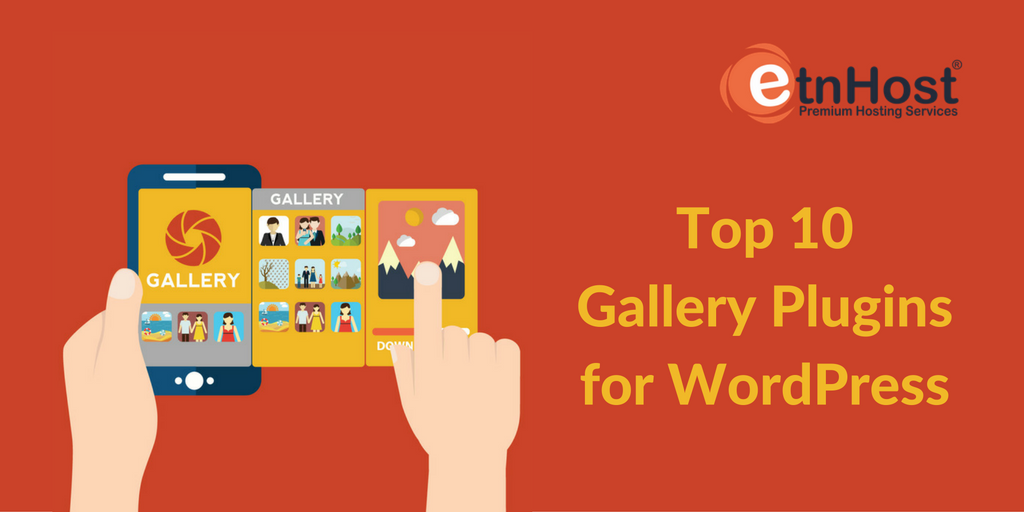 Pictures, pictures, and even more pictures. Almost every website in existence (and nonexistence) is consistent with some type of pictures. You can rarely see a website with no images whatsoever and if you, as an Internet user, happen to stumble across such a website I'd suggest for you to hit that back button because I am pretty sure that if you stick around long enough, you'll probably be bored beyond compare. OK, maybe I am a little bit harsh. I suppose that there are websites that need no pictures but I just cannot imagine what would that particular type of website be about.
It doesn't matter whether you have a business website, a blog or an online shop. Either way, you'll need to have some sort of imagery up there so you could present the viewer with some kind of visually stimulating content other than the exciting simple plain text, we all enjoy so much. This is why we have compiled a list of the best WordPress Gallery Plugins, so your website can become more exciting than ever.
1. NextGEN Gallery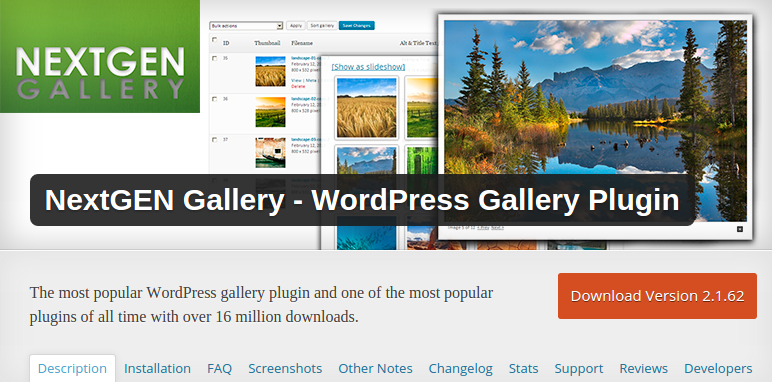 This free plugin has been considered to be a standard for website galleries for years. It is estimated that it receives over a 1,5 million downloads each year. The plugin doesn't use the already built in features but brings its own interface on the table. It maybe a little bit difficult if you are not as experienced, but once you get the hang of it, you'll be uploading images in your sleep. With the NextGen Gallery plugin, you will be able to create beautiful and responsive galleries optimized to fit perfectly no matter the device.
Top Features: Batch Management, Image Resizing, Bulk Uploads, Watermarking, Image Tagging & Sorting, Import Meta Data and more.
Download: You can learn more about the plugin (features, installation and so on) and download it from here.
2. Envira Gallery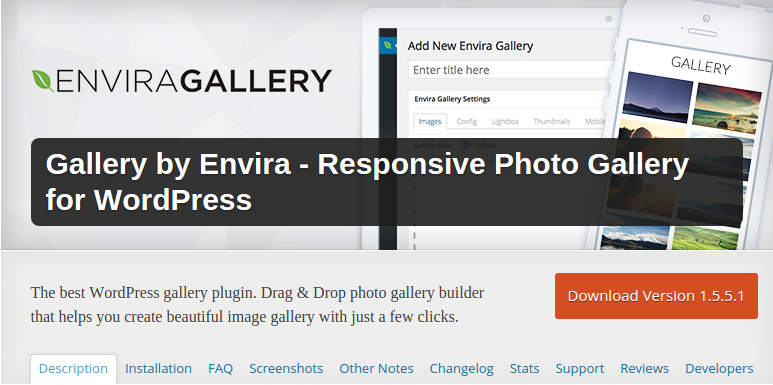 Envira is one of the most popular, powerful and easy to use WordPress gallery plugins. It is perfect for people who are not as experienced with the CMS and gives you the opportunity to create galleries quickly. Envira is well coded and optimized for an extremely high performance and speed. That's why Envira is considered to be the fastest gallery plugin on the market. With it, you will enjoy responsive galleries and within minutes. Envira adapts to your workload and thanks to its drag and drop gallery builder you can easily rearrange the photos which you have uploaded.
Top Features: Deeplinking, Video Galleries, Social Sharing, Watermarking, Responsive and SEO Friendly, CSS styles, Pinterest and Instagram galleries, Dropbox Importer and many more.
Download: If you want to read all about the Envira Gallery plugin and its features and maybe download it then follow this link.
3. Simplest Gallery Plugin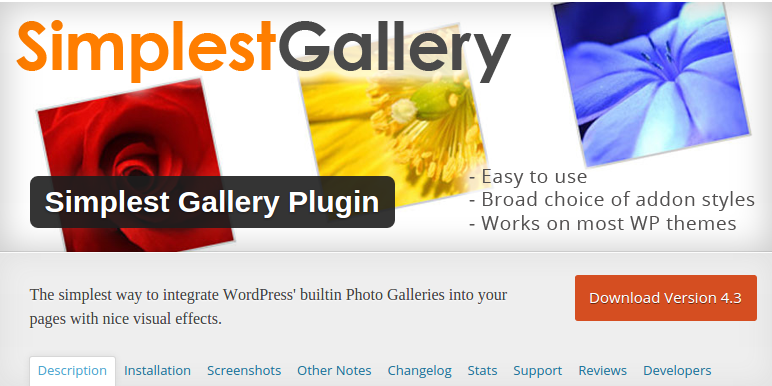 This plugin is known for its simplicity and many gallery styles. With it, you can quickly switch gallery styles without you having to recreate everything from scratch. The Simplest Gallery Plugin also gives you the opportunity to integrate the built-in Photo Galleries of WordPress directly into your pages with an added visual effect.
Top Features: Lightbox Gallery Format, Multi-language Support, Multiple Galleries per Post, Multiple Gallery Styles and more.
Download: You can download this plugin from here.
4. Social Gallery Lite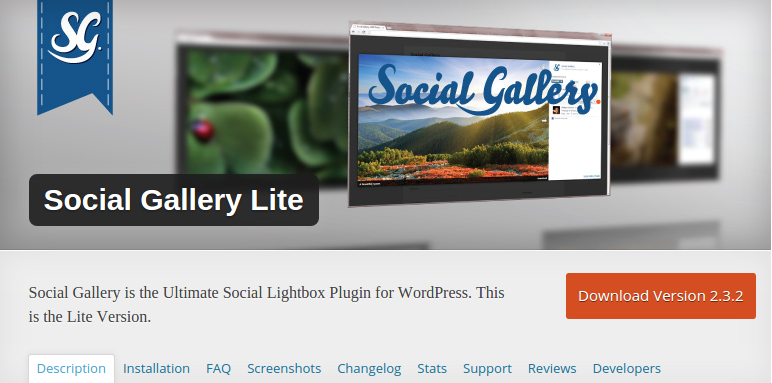 Social Gallery is a great decision if you are more focused on encouraging your visitors to share your images all over their social networks and leave comments under them. The plugin is easy to install, supports multiple browsers, it is fully responsive and ensures fast loading times, and we all know that no one is going to wait a minute for an image to load.
Top Features: SEO Friendly, Custom URLs, 40+ CSS Animations, "Facebook Style" lightbox image viewing, Facebook comments for blog images, Image Tagging and more.
Download: You can get this amazing plugin from this link.
5. Gallery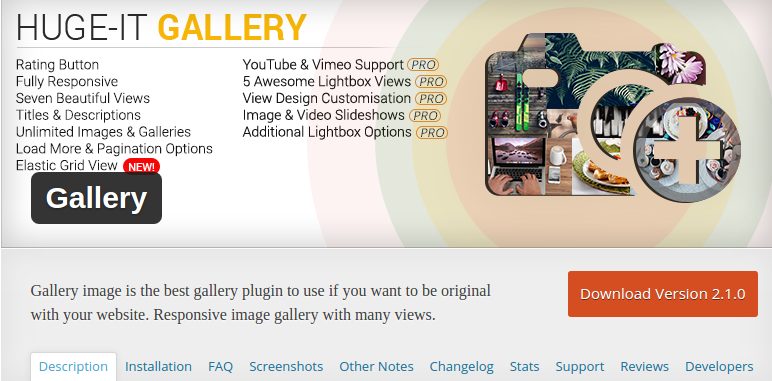 The Gallery plugin is really easy to use even if you are new in the world of WordPress. It is of course, fully responsive and quick to work with which is why it is one of the most popular gallery plugins out there. Gallery gives you the ability to choose among 7 amazing views, write descriptions for the images which you upload, or in other words – to be creative.
Top Features: Bulk Image Upload, Gallery View, Order Change, Advanced Compatibility, Shortcode, YouTube videos, Inserting Images to a WordPress post, Lightbox/Popup.
Download: You can find this plugin here.
6. Foo Gallery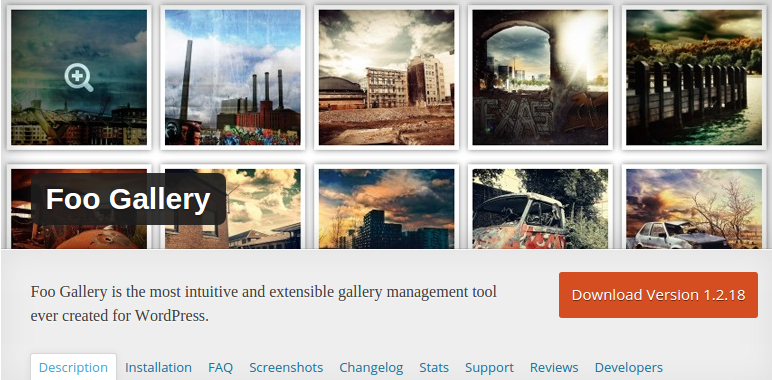 Foo Gallery is a great plugin which is famous for giving users the opportunity to manage better video and image galleries. It is easy to use, suitable both for newbies and developers. With this special plugin, your albums are built in as an extension.
Top Features: Multisite Support, Visual Shortcodes, Built-in Extensions Store, Custom CSS for both galleries and albums and many more.
Download: Download this plugin from here.
7. Gallery Bank
Gallery Bank is a fully responsive plugin with which you could easily create beautiful albums with images and videos. What makes this plugin special is the additional extraordinary features which are included. Simple to use, efficient, fast – Gallery Bank is a powerful plugin to have.
Top Features: Shortcode Wizard, Bulk Upload, Grid Album Format, URL Redirect, Compact Albums, Basic Thumbnail Gallery and many more.
Download: You can download it from here.
8. Justified Image Grid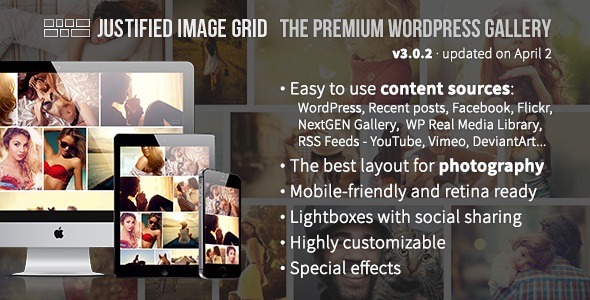 This premium plugin is fully responsive and designed to display your images the right way. It is easy to install and requires no coding abilities. With Justified Image Grid your images remain in their original aspect ratio and you can add special effects to make them more interesting. With this plugin, you get free updates for life and no recurring fees.
Top Features: Retina Ready, CDN Compatibility, Filtering, Content Sources, Lightboxes, WPML and translation ready, and many, many more.
Download: You can download and find all of the exciting features that Justified Image Grid has to offer on the following link.
9. Awesome Gallery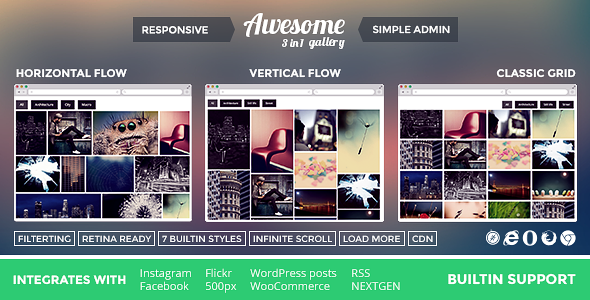 With the Awesome Gallery premium plugin, you can pull images from multiple different sources like custom post types, pages and so on. You can choose how to display all of your images – horizontally, vertically or in a classic grid. You can also use Google fonts for captions, customize image borders, captions and image width.
Top Features: Automatic updates, Self-diagnostics, Layout Customisation, CSS3 Image Effects, Multiple Galleries, Responsive and Retina Ready, and many more.
Download: Learn more about this awesome Awesome Gallery now.
10. Gallery Factory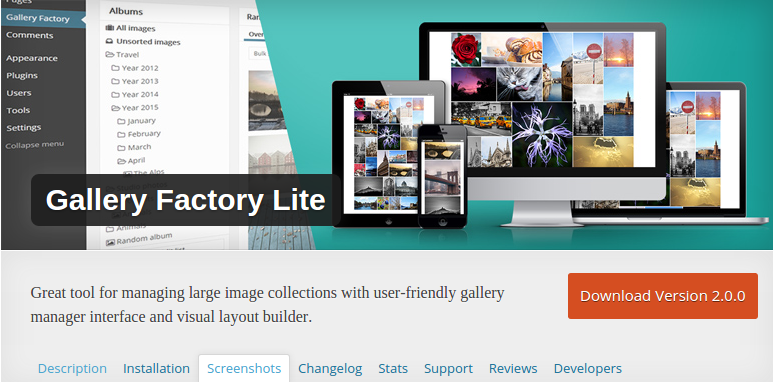 Gallery Factory is a great solution for people who plan to create large galleries. It acts as a web application integrated inside of your WordPress which by itself is a very innovative approach in the world of WordPress plugins. The organization of the files has never been easier – you can put your images into multiple different albums without having to upload them multiple times. The plugin also comes with an amazing tool which lets you showcase your pictures in an interesting and creative way.
Top Features: WYSIWYG layout editor, Localisation-ready, Tree-like Album Structure, Responsive Grid Layout, Fully Responsive, and many other exciting features.
Download: You can download and enjoy the benefits of Gallery Factory from here.
If you are a WordPress buff like we are, then you should become a part of our ever-expanding family. Our premium WordPress web hosting plans are perfect for you and your WordPress website. All of our plans are developed in such a way in which you could easily upgrade to a larger one, so when you grow, we grow with you. Become a part of our online family today and let us Envision The Net together!