Make a Killing in October : 5 Tips for BOOOsting Your Halloween Sales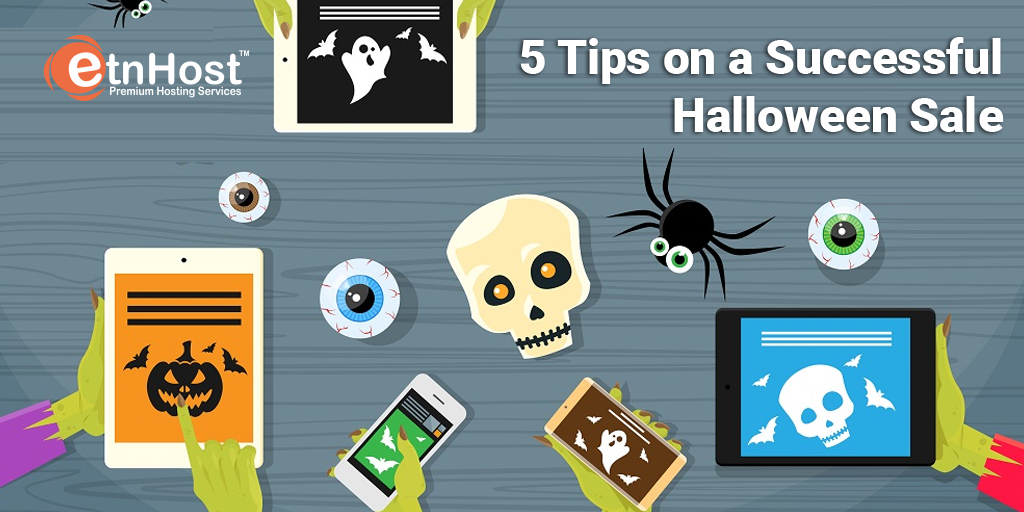 Brace yourselves because autumn has arrived to fill our hearts with nostalgia, to fill our wardrobes with warm clothes and to remind us that the year is almost over. But there are still quite a lot of things to look forward to this year, especially for e-commerce website holders – Black Friday, Cyber Monday, Christmas, Hanukkah, Kwanzaa… and the closest one of all – Halloween. Although Halloween is not an official bank holiday, meaning you'd still have to go to work on that day and if you are lucky enough your boss wouldn't have sent a memo the week before notifying you that you'd have to be in a "spooky" Twilight costume (your office will be filled with sparkling Edwards...imagine the horror!).
Do not underestimate Halloween because over the last decade it has proven to be one of the most profitable holidays. Halloween has been slowly but surely taking over the world. Today official celebrations are observed in over 15 countries, and you can see people in costumes on this day all over the world. So if you are the proud owner of an e-commerce website, then it is high time you developed some sort of a strategy and engaged your visitors and customers in a blood-chilling Halloween sale. To ease you into this process we have compiled a list of trick or treats...I mean tips and tricks on a successful Halloween sale.
1. Make an offer that no one could resist
Even if you are not selling things which are standard for the holiday like costumes and candy, you could still whip out an attractive deal. It doesn't matter what type of merchandise you are selling, the truth is that people are programmed to look for a deal as soon, as a big holiday approaches. All you need to do is lower some prices and devise a killer marketing strategy so that your regular customers are aware that you are having a sale and your new visitors would feel compelled to buy something. Having a special promotion with a limited time sale is always a great idea.
And if you are selling Halloween related items – even better! You can be extremely creative and mix things up. Think out of the box! Create special walking dead themed packaging. Embrace the craziness which Halloween comes with.
2. Decorate your website
If you have a website which is not Halloween oriented you would definitely need to decorate it a little in the spirit of the holiday. You wouldn't have to do much but remember that if you refuse to put a toothy pumpkin here and there, then your Halloween sale would be just a sale. In this step, you can get creative. You can decide whether or not you would like to have subtle decorations, not much but just the right amount of spooky, or you can go all in and include bats, skeletons, coffins, ghosts, and other gloomy things which are completely appropriate for the occasion.
If you don't feel like decorating, a simple pop up with a small text, informing the visitor of your sale and a compelling Halloween themed picture will do the trick. And since it is a holiday of fun, try to make your text content as funny as possible. A cute pun here and there should really lighten things up.
3. Promote your website
This step is extremely important! Without it, all of your efforts would have been for nothing. To enjoy a successful Halloween sale you have to promote your website. Here are some of the ways you could launch a Halloween sale advertising campaign:
The cheapest way for you to inform people about your sale is via a newsletter. This is an effective strategy when you want to inform the people who are subscribed to your newsletter that you are having a sale to die for. Of course, the flaw here is that they will be the only ones who know. You can not gain new customers this way because most commonly the newsletter is sent to people who have already purchased something from your site. You can't put all of your pumpkins in one basket so to speak. Sending out a newsletter is a great idea but it can't be the only tool in your strategy box.
Paid advertising is great because, with it, you increase your visibility in the Search Engine Result Pages. The way it works is that you will appear above the organic search results and thus become more noticeable. Although if you are on a tight budget then Google Adwords is probably not the right choice.
Promote in social media. There are several ways to do that.
You can update your cover photo with something Halloween-y with the word SALE written on it. This way all of the people who have already liked/followed your page will see it and come running straight to your website.
You can invest in a paid advertising campaign on Facebook. It is not as pricey as Adwords and it will definitely introduce your products to more people. This way you will gain a ton of new visitors a.k.a potential buyers. You can try the geo-targeting, this way you can choose countries in which Halloween is celebrated and target them.
It is important that you stay active in social media. You should be posting regular updates to keep the online users engaged. It is always a nice move to check out the social media profiles of the competition so you know what they are up to, how they are handling their social media pages and so on.
If you are planning on launching a new product around Halloween, you can take advantage of the situation and create additional excitement around that, with the help of your trusted social media of course.
Use hashtags to popularize your sale.
4. Packaging
If you are selling a physical product, adding a nice Halloween themed packaging would be a nice touch. Of course, then you shouldn't go overboard with the gore. Maybe something subtle which reflects well on your product.
5. Free Shipping
It's a sale. Give your customers the joy of free shipment. They will appreciate it and definitely come back again.
We hope that you find this blog post informative and we would like to wish you to have one hell of a Halloween sale, and if you find yourself in need of a wickedly good hosting provider, then by all means check out our deadly web hosting plans and join our ever growing undead online family today!