Best 5 Tips and Tricks for a Maximizing Black Friday/Cyber Monday Sales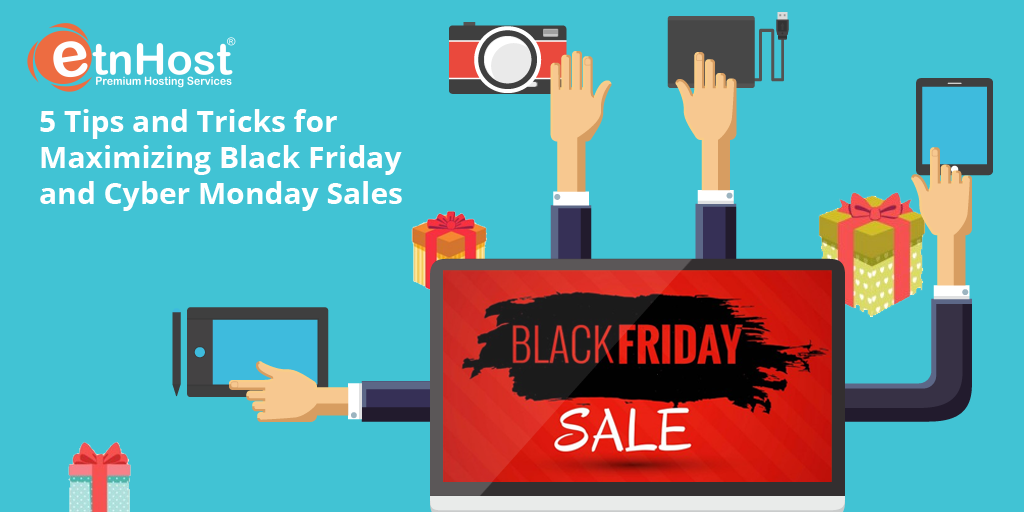 It is almost here! The holiday which is not a holiday at all but still manages to make us feel like it is our birthday and Christmas combined. Yes, I am talking about Black Friday, the one day of the year when all of us go on a shopping spree, rummaging through thousands upon thousands of products from the safety and comfort of our own homes. All hail the Internet! You know what I mean...We have all seen what actual store shopping on that day looks like – broken teeth, pulled out hair, sprained ankles, and other joyful occasions to visit your local ER. But luckily, there is no need for all that hassle, since we can do all of the desired shopping from home. It is a win-win situation. A win for us and а win for the online traders. There is no time like the holiday season for the e-commerce sector. This is without a doubt their busiest time of the year. And this is why we want to help them as much as we can, so this is why we give you the Best Tips and Tricks for a Successful Black Friday/Cyber Monday Sale.
Since Black Friday officially puts a start to the Holiday Shopping insanity it is only fair for it to be the busiest time of the year for all retailers. What people buy during a Black Friday sale pretty much equals to the rest of their entire holiday shopping experience. So having said that (a thing that you probably already knew) let's focus on the tips:
1. Check What You Have in Stock
The first and, probably, the most important thing you can do, before throwing yourself to the sharks, is to see what you already have in stock and maybe add to that. It's better to be overly prepared than not prepared at all. Imagine a scenario where you run out of bestselling product in the middle of the Black Friday/Cyber Monday madness. During those four days, you have to be able to keep the ball rolling. Think about last year. What were your best selling items back then and when did they sell out? Learn from your past experience, and if this is your first Black Friday/Cyber Monday sale, then research what were the most popular items which sold out really fast last year. There are numerous statistics flooding the Internet, all you have to do is find them.
2. Make Sure Your Site Is Ready For the Traffic
You will definitely need to make sure that your site would be able to withstand the increased traffic. If you have limited resources then maybe you should consider an upgrade from your current plan. It could get quite unpleasant if you reach your bandwidth limit right when things are most heated up and your website becomes inaccessible. ETNHost's plans are all developed in such a way that you could easily upgrade to a plan with bigger resources so your site could run smoothly and efficiently.
3. Optimize Your Website Properly
There are things which you have to make sure are done properly such your search engine optimization. Mobile friendly website, interesting 404 Error page, alt tags, meta titles… Make sure all of those things are done the right way so would be able to find you.
Mobile friendly website – for the users who shop online via their mobile devices.
Interesting 404 Error page – for the users who cannot find what they are looking for.
Alt tags – so Google can understand your images.
4. Advertise Your Website Properly
The traffic you receive during your Black Friday/Cyber Monday sale greatly depends on the way you advertise it. There are several ways for you to do that:
Send out emails to the people who are subscribed to your newsletter – this way you can notify people about your wonderful Black Friday/Cyber Monday sales and you could do it in various different ways. For example, you could send out notifying emails which inform the customer about your sale, or you could send out gift ideas for the holidays with a display of your top selling products. Keep in mind that you won't be the only one who will be sending out emails, so try to be creative so you can stand out from the competition.
Use social media to advertise – Thanks to the various kinds of social media, you are now able to promote the hell out of your sale absolutely free of charge. All of your followers will be able to see your posts and share them with the rest of the social community. You also have the option to pay for an add on Facebook, Instagram, Twitter and even Pinterest. You can set geo-targeting and determine who is your target audience.
Google Adwords – probably the most efficient method for you to advertise your site. Thanks to Adwords you'll be able to set specific keywords and phrases and Google will display your ad in front of your targeted audience. Your website will show above the organic search results in Google and, thus, make your website way more noticeable.
5. Include Free Shipping
For the amount of money which people are spending the least, you could do is to include free shipping because let's face it, free shipping could serve as a tiebreaker. Of course, you don't have to offer free shipping to every customer so you can set some kind of arrangements such as free shipping offered for purchases over a certain price, or something like that. The point here is to make an effort so the user has an incentive to buy more.
6. Promote your business' Black Friday sales with a New Domain: .BlackFriday
With hundreds of new domain extensions coming to the web, finding an address that fits your business is easier than ever. Stand out of the crowd! Why not gear up for this year's biggest shopping day with a .blackfriday website. You don't have to queue for this .BlackFriday, but you do have to be quick! Order yours .BlackFriday domain name today!
We hope you have enjoyed our blog post and that you have an amazing and profitable Black Friday/Cyber Monday sale, and if you ever find yourself in need of a reliable web hosting provider give us a visit because our web hosting plans offer everything you'll ever need and more.