It's .CHRISTMAS Time!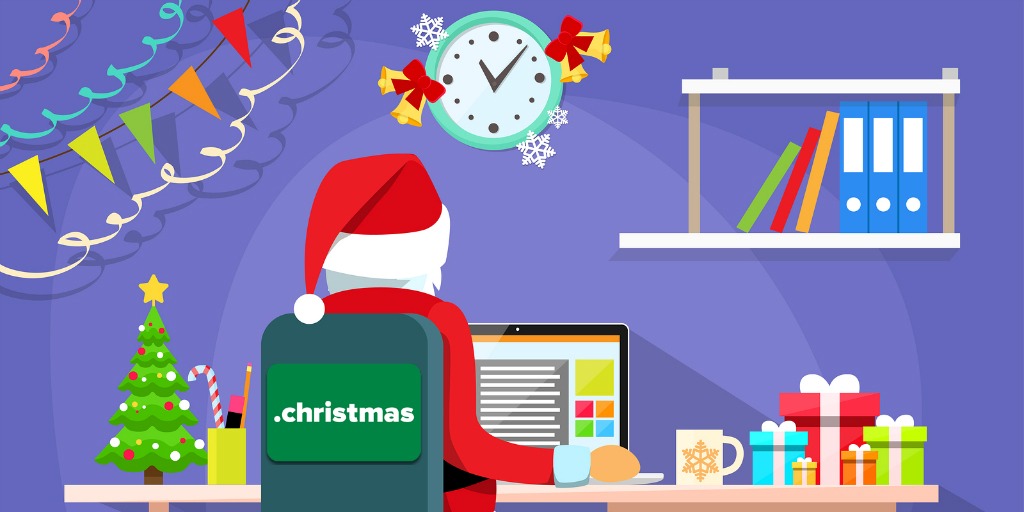 Ho ho ho! Many people would argue that Christmas is the most wonderful time of the year. Reindeers, presents Christmas candy, Christmas carols. Can't you just hear the sleigh bells ringing? Can't you? Well, maybe you are on Santa's naughty list. But cheer up because the nice people from ICANN have the perfect gift for you. They give you the gift of .CHRISTMAS domain.
Let me paint you a picture. It is the beginning of December. You are wearing your best Christmas pyjamas and sipping eggnog while thinking of a festive yet funny way to present your Christmas blog, e-commerce site, or online sale/promotion. You probably are listening to Mariah Carrey's "All I Want for Christmas Is You" (the version without Bieber in it) while the fire in the fireplace is silently bringing the red onto your cheeks (who knows whether it's the fire itself or the vodka laced eggnog). Well, stop the search because ETNHost has the right solution for you. Its .CHRISTMAS baby!
Last Christmas (Wham! anyone) we were all focused on bringing the holiday spirit to our websites, this year it's high time we brought some holiday spirit to our domain names as well. Let us introduce you to .CHRISTMAS, the most festive domain name extension that has ever existed. With it, you can finally make that special Christmas promotion which you had in mind to pop out.
.CHRISTMAS is the best gift you can give to your website, especially during the holiday season with thousands upon thousands of people rushing to browse through websites with something even remotely Xmas related. You don't have to be the owner of an e-commerce website to enjoy the perks of .CHRISTMAS. The extension is perfect for blogs, Xmas charities, commercial websites, various advertising campaigns, and so on. That's why it is called a Christmas miracle because now you can enjoy an all-purpose domain name extension which is dedicated especially to the holiday festivities.
The truth is that Christmas is probably the most commercial holiday there is, and each year people rush online in a search for the perfect Christmas experience. With the specialised .CHRISTMAS domain name extension you can spoil your visitors and have a merry little Christmas yourself. Give joy to your visitors and help them feel the warmth and happiness that .CHRISTMAS brings.
Wanna know the best part? .CHRISTMAS comes with no restrictions as to who can register it. That's right, you too can bring that happy cheer to your brand by claiming your desired .CHRISTMAS domain name. This is the time of the year when people are brought close together no matter their differences, and what better way for you to contribute to the cause than to become a part of the large .CHRISTMAS family.
And if all that isn't enough then let me say this - .CHRISTMAS is as SEO friendly as .COM, it can be registered by anyone who is interested, it can be registered from all the points of the world, and can be used all year long, no matter the season.
So shake up the happiness and embrace the holidays by claiming your .CHRISTMAS domain name with ETNHost today and as a Christmas present, you'll be able to enjoy the perks of our 24/7/365 expert support, free DNS management, free Whois protection, and the many other benefits which we provide to our online family members. So don't wait up for Santa to bring you this amazing domain name and give yourself the gift of .CHRISTMAS.
Our whole team would like to wish you Happy Holidays!