How To Build a Business Website using WordPress?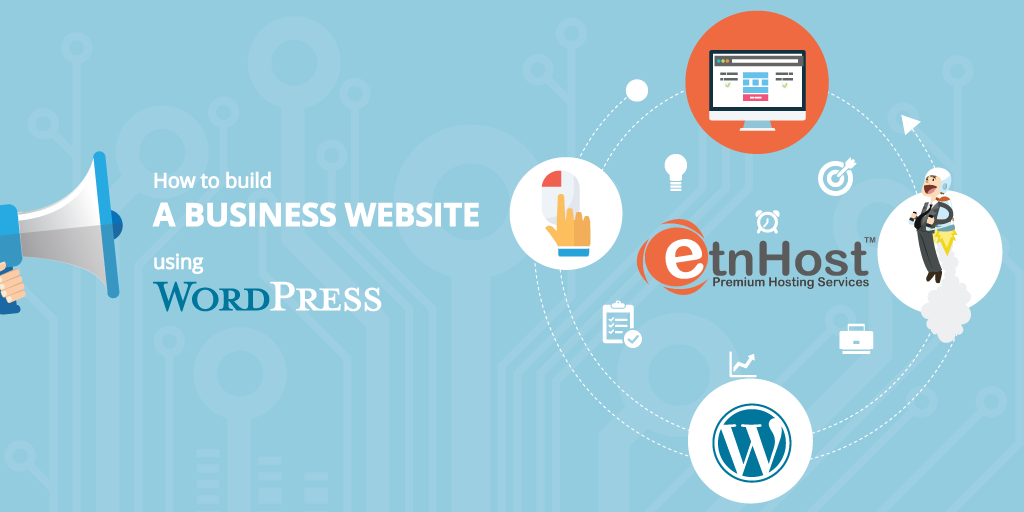 ETNHost is proud to announce the beginning of a How-Tos series, in which we will give you tips and tricks on how to build a certain type of website using WordPress. In these series, we will concentrate on how to build and what to put into the different types of websites, like for instance a restaurant website or a flower shop website and so on. The purpose of this is to make it easier for business owners to construct their site and to have guidelines while doing it. So without further ado, let's begin! In this first chapter, we will pour the foundation of how to build a website using WordPress.
1. Start at the Beginning
The first things you would need are a web hosting plan and a domain. Here at ETNHost, we have a wide variety of hosting plans, suitable for all types of businesses. Choosing the domain name is a relatively easy thing to do. It should be the name of your business. If it is too long then you should improvise a little, but do not go over the top, because the domain should be easy to remember and to pronounce. If the domain name that you desire, has already been taken, then you can simply try it with another extension. There is such a wide range of TLDs to choose from. There are the .net; .com, .org, .info, .biz extensions, but you can decide to choose a country specific such as: .de; .fr; .co.uk and so on, and there are the new domains which are industry oriented .florist; .events; .photography; .auto; and many more. We have discussed in depth the subject of choosing the right domain in our 10 Tips on How To Choose the Right Domain Name article.
2. Installing WordPress
Installing WordPress is very easy. If ETNHost is your web hosting provider, then all you have to do is log into your cPanel account, find Softaculous App Installer and click on it, then find WordPress among the other Apps (it should be incredibly easy to find it), click install and then fill in the spaces that need information. Easy as pie!
3. Choosing the Right Theme
WordPress is famous for having a rich palette of themes, suitable for almost every type of business. You can easily find themes for your restaurant website, flower shop website, sports website and so on. There are free themes, available through the dashboard, and advanced or premium themes, that will cost you a couple of bucks.
Installing a Free Theme (multi-site)
You can access and download the free themes by logging into your WordPress account, then on the upper left corner, just above where it says Dashboard, you will find My Sites, from where you can access the Network Admin. From the Network Admin, you can control your themes, plugins and settings. By clicking on Network Admin -> Themes you will be presented with all of the themes that are installed on your account. From there you can manage them, delete, activate and deactivate them. If you want to add a new theme simply click on the Add New button, by doing so you will be presented with Featured, Popular, Latest and Favorites themes. Each button will lead you to a list which consists of a large number of themes. You can use the search bar if you know the name of the theme, to access it directly. And if you want a more detailed search, you can use the Feature Filter. The installation is really easy, all you have to do is click on the Install button.
Installing a Free Theme
The first thing you do is to log in to your Admin page. Then go to Appearance -> Themes. Once you have gone to Themes, find the Add New button and click on it and from there the process is the same as with the multi-site free theme installation.
Uploading and Installing a Premium Theme through the Dashboard (multi-site)
Installing a premium theme is very similar to installing a free theme. The steps are almost the same. The first thing you need to do, obviously, is to buy a theme using a company like StudioPress or WooThemes. After buying your theme, it will be downloaded to your computer in a .zip file. To upload it to your WordPress website, first, you need to login to your account. From there you find My Sites on the upper left corner (just above Dashboard) -> Network Admin -> Themes. From there you click on the Add New button and you are on the page that provides a list of the Featured, Popular, and Latest free themes. What you need to do is find the Upload Theme button and click on it. Then you will have to choose a file, that you want to upload, which would be the .zip file you downloaded earlier. After the theme has been successfully uploaded, you will receive a confirmation message, which allows you to activate it right away.
Uploading and Installing a Premium Theme through the Dashboard
First, you have to log in to your Admin page, then you go to Appearance -> Install Themes, click on Upload. Then you'll be able to browse your computer's files, once you have selected the theme you are about to upload click the Install Now button. After the successful installation, you will be able to activate the theme immediately.
Uploading a Premium Theme via FTP
This a method that is perfect for the people who feel that are on a more advanced level. For you to use this method, you must have an FTP Client installed on your computer such as FileZilla, FireFTP, SmartFTP and so on. You have to unzip the file in order to upload it. The first thing you do is to connect to your host via the FTP Client, then find the wp-content/themes folder and upload there the unzipped file. Then login to your WordPress account My Site -> Network Admin ->Themes and activate your theme.
Using WordPress is easy and fun, and it is only one of the over 400 Applications which ETNHost offers its clients. Join our family by choosing one of our superb plans and gain free access to all of those interesting and fun applications, one of which is WordPress.