Top 10 must-have WordPress Plugins for Marketers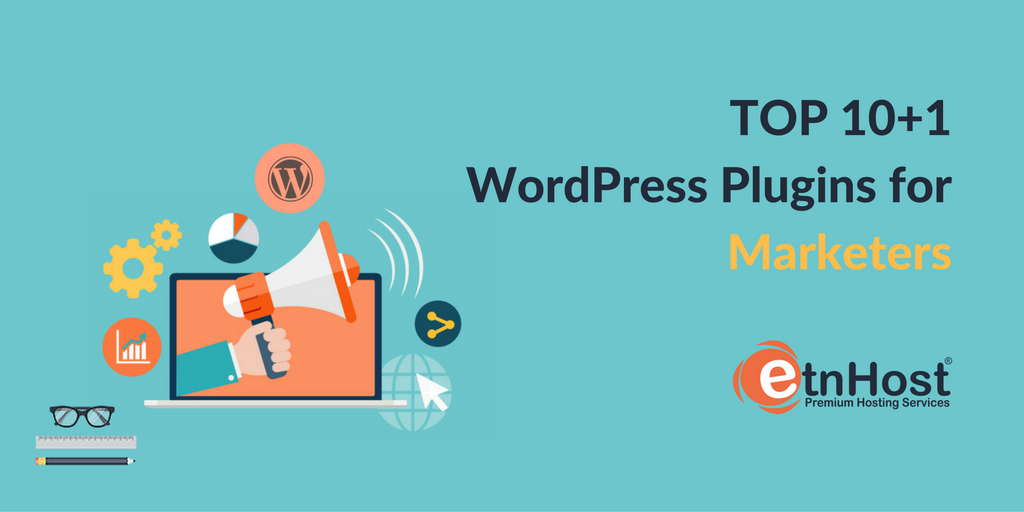 It is a well-known fact that Marketers simply love WordPress. Why? - you ask? Check out the reasons below.
As most marketers would agree with me, we're under a great deal of pressure and stress to create captivating, digital, marketing experiences that appeal users and encourage them to come back. While this is most definitely easier said than done, it can be done with the right tools and platforms. Especially if your website is on a CMS, such as WordPress.
With WordPress powering 25% of the web today, it's clear that this popular CMS is a marketers' first choice. WordPress is a platform designed with an idea for publishers, it offers superior SEO capabilities and provides you with ultimate control over almost anything. And this can be easily achieved with...plugins.
42,884 plugins. That is the current number of plugins on WordPress.org. I bet that once this article has been released, the number would have changed. With so many available, it's tough to decide which one is the best to use, especially when time is pressing upon you.
Are you looking for the must-have WordPress plugins used by Marketing experts? Well, then you're in the right place. The good news is that we have already done the work for you. In this article, our expert team has hand-picked the best WordPress plugins for 2016.
1) WordPress SEO by Yoast

Why you'll love it: WordPress SEO is not just a standard SEO plugin, Yoast SEO has become the standard plugin for search engine optimization. It is the complete website optimization package you would ever need. Yoast SEO helps you optimize your on-site SEO. Every post, every single page, every image, every URL – Yoast SEO handles them all. You'll fix existing problems and align your future content marketing strategy with the SEO best practices.
Where to find it: https://yoast.com/wordpress/plugins
2) Akismet

If your blog is open for comments then naturally people will comment. But that's the good part. Regrettably, so will the spammers and spambots. Akismet, being a product of Automattic, is simple to configure but requires you to register with Automattic and get an API key.
Why you'll love it: Akismet takes care of the spam that can quickly take over the comments and interactive elements of your site. Switch it on and forget about it – Akismet is incredibly accurate.
Where to find it: https://akismet.com
3) Jetpack

Jetpack is an all-in-one WordPress solution for promotion and marketing. The plugin provides advanced features such as analytics, content tools, mobile themes, and more.
Why you'll love it: Marketers can take advantage of all of Jetpack's features to enhance their website, or choose to activate just what they want, based on their personal needs.
Where to find it: http://jetpack.me
4) Editorial Calendar - CoShedule

CoSchedule adds a fully functional editorial calendar to your WordPress CMS. You can manage posts from multiple authors, quickly edit titles and publishing times, and arrange drafts with this all-in-one organization tool.
Why you'll love it: CoSchedule uses a drag-and-drop functionality to simplify the way you schedule and manage your blog content. With planning, editing, and sharing capabilities included in a single back-end product, CoSchedule has everything you need to achieve growth.
Where to find it: http://coschedule.com
5) OptinMonster

Power up your subscriptions and registrations, track your conversions, split test to get better results, and more.
Why you'll love it: OptinMonster is probably the best lead-generation plugin for WordPress. It allows you to create amazing attention-grabbing, opt-in forms that convert extremely well. OptinMonster provides you the power to convert your website visitors into subscribers and customers.
Where to find it: http://optinmonster.com
6) Broken Link Checker

Want to prevent SERPs from following broken links on your website? Broken Link Checker monitors links in your pages, posts, comments, and even custom fields. If it finds a broken link, it will notify you via the WordPress dashboard or by email.
Why you'll love it: To save you precious time, the plugin makes it easy for you to edit a broken link from the plugin page, eliminating the need to manually go into each post to make changes.
Where to find it: https://wordpress.org/plugins/broken-link-checker
7) Title experiment

A good title has the ability and the power to make or break the success of your blog post.
Title Experiment lets you A/B test multiple titles for each of your pages and posts in order to find out which one works best for your audience, and help you increase your click-through rates.
Why you'll love it: Why settle on a single post title, when you have so many great ideas? Use them all and let the Title experiment plugin figure out which one is the best.
Where to find it: https://wpexperiments.com
8) Canva Design Button

The Canva Design plugin integrates seamlessly with WordPress, providing you access to the Web's most powerful design platform. The plugin provides the ability to embed Canva in any type of website. Every website's owner that allows users to upload content, whether it's a Web app, e-commerce provider or an ad network, wants their users to have beautiful graphics. Instead of just offering an 'Upload' button and expecting users to figure out the rest, the Canva Design Button enables website users to easily create graphics without the need of leaving their page.
Why you'll love it: Marketers love Canva. It has quickly emerged as one of the most powerful, easy to use, quick, flexible, and popular web-based tools for creating visual content. The Canva interface is a joy to use, just drag across an image, text box or icon. Use Canva within WordPress with this plugin.
Where to find it: https://wordpress.org/plugins/canva
9) Floating Social Share

The Floating Social Share plugin supports all of the popular social media buttons with counters, and you can also enable or disable any of the plugin's placements. This plugin was last updated in February 2016 & now also offers Whatsapp sharing button on mobile. Though the plugin is responsive, it will not show on smaller screen so it wouldn't overlap the reading area.
Why you'll love it: Install, activate, and choose the social media share buttons you want to include with a click of a button- it is that easy! Integrate lovely, responsive, smooth-scrolling social media links right into your site.
Where to find it: https://wordpress.org/plugins/floating-social-share-bar/
10) Click to Tweet

Click to Tweet allows marketers to create tweetable moments, directly within their blog posts, to increase engagement and drive more traffic to the website content.
Why you'll love it: This is amazing and widely-used social sharing plugin, which makes it super simple for your users to tweet you a custom message. The plugin creates custom tweetable content inside your post body so that your user can just click the button and share the message which you want them to share.
Where to find it: https://wordpress.org/plugins/click-to-tweet-by-todaymade/installation
11) W3 Total Cache

W3 Total Cache is an essential plugin that you will definitely want to add if you want your site to run smoother and faster.
Why you'll love it: The addon greatly improves the performance of your website by caching everything from databases to pages, which makes your server run through your sites content and in turn loads them up to your website visitors browser faster than ever. This makes W3 Total Cache a very well-known and well-respected plugin, used by some of the best sites online.
Where to find it: https://wordpress.org/plugins/w3-total-cache
We hope this article helped you learn about the must-have WordPress marketing plugins for 2016. Follow our board on WordPress articles and get frequent updates from the WordPress world delivered to you by ETNHost.
Happy Marketing,
ETNHost