Chapter 2: How To Build a Restaurant Website using WordPress?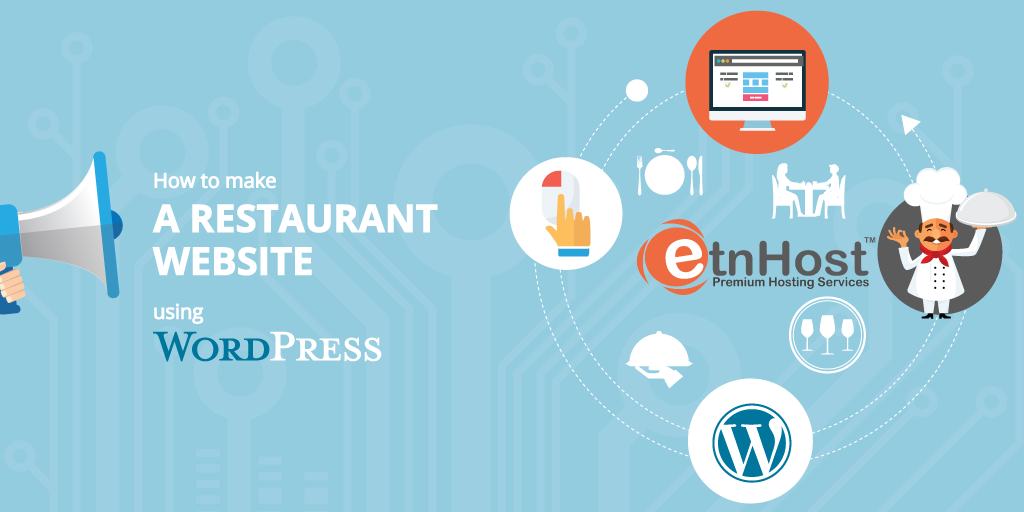 If you are a restaurant owner, then you know that in this day and age is simply unthinkable to have a restaurant and not have a website. People are so used to checking everything on the Internet, that you not having a website may as well mean that you don't exist. This is why we should start at the beginning.
1. Web Hosting and Domain
There are 2 things that you should do before you start your website, and those are choosing a web hosting provider and the perfect domain. Think of buying web hosting as if you were buying land, you need it in order to build a house (the house being your website). If you want to build a bigger house, you would have to buy a bigger piece of land. Do you get where I am going with this? If you want to have a big site, you would need a hosting plan that can accommodate your site. Here at ETNHost we have plans suitable for small to medium to large websites, and if you are not sure which is the best solution for you, our support team is at your services.
Choosing the right domain is a very broad topic, and we have discussed it in depth in our 10 Tips on Choosing The Right Domain Name article that you may also check.
2. Installing WordPress
The Installation of WordPress is really easy and step-forward. You can read about it in our How To Build a Website Using WordPress article.
3. Choosing the Right Theme
The beauty of WordPress is that it has a rich palette of themes, suitable for diners, cafés, restaurants and so on. All of them are highly customizable and easy to use. I am going to give you the names of some of them so you have a starting point.
And here are some free themes perfect for your restaurant website:
Restaurateur – is easy to customize, responsive theme. You can add tabbed menu with your personal categories and customize the home page, welcome message, add contact details, map location and so on. Bakery – is a has lots of features such as menu, gallery, order form and many more. It is easy to use and to customize.
Bistro – is a great theme, fully responsive and easy to use. You have lots of features at your disposal.
SKT Bakery – its name speaks for itself. The theme is perfect for a bakery, café and such. It is responsive and loads really fast, it has a modern look and can change background and colors.
OS Gourmet – It's perfect for any food-oriented website. It is fully responsive and with a modern design. Perfect for displaying social profiles. You will have access to lots of custom widgets.
4. Elements
There are things that every restaurant/ café/ buffet/ dinner should have on their website. Those things are essential and will make the user experience greater. The website is the online facade of your restaurant. If you make people want to come and visit you, just by showing them a couple of pictures and a good website structure that is responsive and user-friendly, then you have done your job right.
Menu – this is the most important element of your site. And I am aware that I am not telling you something that you don't already know, but there are some things that should be emphasized on. The menu should be web based and not PDF; there should be pictures of the food, and I am not talking about pictures taken from Google. You should put pictures of the actual food you serve. A detailed description of the ingredients, specials and prices. Do not put in the menu non-existent things just to make it look fuller. What you serve is more than enough.
Reservations – It is a nice touch for the costumers to be able to make reservations online. WordPress provides OpenTable reservation system, so the process is easy as pie.
Food Delivery – It is also nice to give your costumers the option to order not only via phone but online as well. Let's not forget that we live in the technological era.
Working Hours and Location – The address and the phone number of the restaurant should be easily accessible. This is the most needed information for the customers so they know how to reach you. WordPress provides widgets with its themes that give you the opportunity to set the location (which includes maps) phone number and working hours.
History – A nice thing to include on the website is the restaurant's history. What inspired you to build it, when was it build, why you chose that name and so on. You should also put some nice pictures in a gallery.
Recipes and Blog – Those are not vital for your website, but are interesting features, which will leave a good impression.
Having a website may be essential, but it could be fun as well. Here at ETNHost, we value your creativity and want to help you and your business grow. Our web hosting plans give you free access to over 400 applications one of which is WordPress. Join our growing family and let's Envision The Net Together!